Parc One @ Santee
A Sustainable Living Community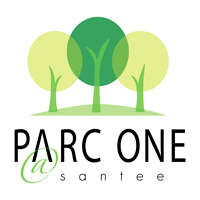 Parc One @ Santee will be the premier apartment project in Santee. 170 one, two and three bedroom units featuring luxury living in one of Santee's best locations. The project is designed with energy efficiency and will offer resort style amenities including swimming pool, spa, a first class gym, club room and park like landscaping. Each home will offer granite countertops, deluxe appliances, in-suite laundry, designer light fixtures, luxurious carpets and ceramic tiles in the kitchen, bath and entry.
Parc One @ Santee is located next to the San Diego River, adjacent to the town Center development and the San Diego Trolley connecting the project via La Mesa, San Diego State University, Mission Valley, and Old Town with downtown San Diego. Town Center is the home to Target, Barnes & Noble, 24 hour fitness, Staples, Pier 1, Petsmart and numerous retailers, restaurants and entertainment venues. Other retailers in the immediate area include, Kohl's, Lowe's, Wal-Mart, Costco, Home Depot, Best Buy and Vons . Across the river, a short walk away is a new 55 acre community park lands containing playing fields including baseball, soccer and football fields as well as tennis courts, picnic areas and playgrounds. Within the park is the City of Santee Aquatic Center, with outdoor pools, spas and waterslides and the YMCA Family Recreation Center. Directly to the east of the site is the future campus of San Diego Christian College.
The project is currently in the construction phase. The scheduled construction completion is the yearend of 2014.